Are you ready to Strut Your Mutt on September 15, 2018 in Austin, Texas?
Time to get excited because Strut Your Mutt is back! Join our Dog Pack (aka team) as we participate in Strut Your Mutt to raise money to help the homeless pets in Central Texas!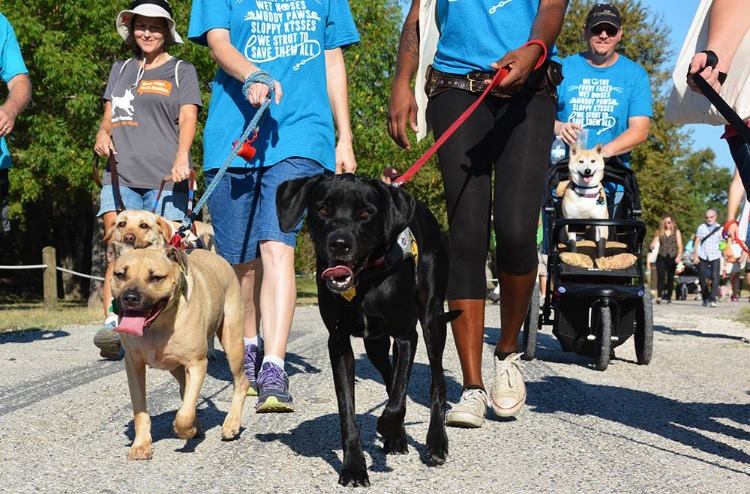 What is Strut Your Mutt? Strut Your Mutt is a massive dog walk designed to help raise funds and awareness for homeless pets. It's also a ton of fun!
How does it work? Once registered, you will set a fundraising goal for yourself. It can be anything you feel you can accomplish – if you raise more than $25, you will get a super cool t-shirt! From there you simply spread the word to your friends and family about PAWS and your Strut Your Mutt goal. Then, on September 15 at 9:00am, show up at Walter E. Long Park in Austin for the massive dog walk and festival to reward yourself for all of the amazing work you have done for homeless pets! 
Don't have a dog? That's OK! We want you to Strut with us anyway – you are also welcome to borrow one of our adoptables! Register and participate in the walk and socialize with us.
Can't make the event? You can still help us by donating to our Strut Your Mutt team! Your donation is tax-deductible and goes directly to helping save the lives of homeless pets in Central Texas. Together, and through your support, we can bring about a time of No More Homeless Pets! ®
Thank you for your support!

Walter E. Long Park
6614 Blue Bluff Road
Austin, TX 78724
September 15, 2018
Walk starts at 9:00 am 
HUGE THANKS TO OUR AMAZING SPONSORS!