Our organization could not exist without volunteers. As a private, non-profit organization, we rely on the assistance of caring and hard-working volunteers in all of our programs. Working directly with the animals can increase their chances of adoption by providing additional human contact. Volunteers also help us inform the community of the goals and objectives of PAWS and promote responsible pet ownership.
The future of PAWS depends largely on its volunteers. We are all working together for the animals.
Community Service: If you are trying to schedule COURT or SCHOOL ordered community service, please click here and scroll to the section for community service requirements. 
HOW TO BECOME A VOLUNTEER: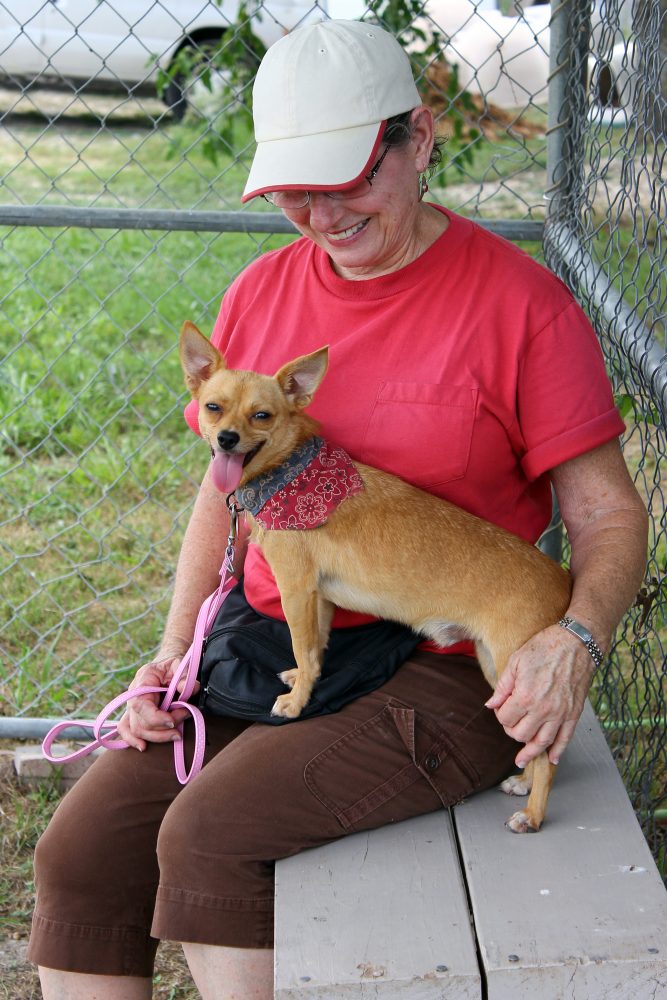 Note: all steps below are required for anyone looking to volunteer directly with animals.
Submit a

PAWS Volunteer Application HERE

:  You will be prompted to create an account/login for GivePulse before applying. You can access GivePulse through their website, or mobile app: [Apple]  [Google Play]
Read the Volunteer Handbook and sign the Volunteer Agreement/Release and Waiver of Liability form. These are linked on the bottom of the volunteer application in GivePulse.
Attend a New Volunteer Orientation to learn about our organization and the various ways to get involved. Pay the required $10 fee on day of orientation. Choose the shelter location where you plan to volunteer most. Register in GivePulse by clicking links below:
After attending the orientation, you will be ready to begin volunteering!

Treat animals in our care with kindness and concern for their welfare.

We ask for a commitment of volunteering 3 hours a month in order to stay current on our routines and policies. If you are unable to volunteer for 3 months in a row, you will need to attend a new volunteer orientation to ensure you are informed about current protocols.

Represent yourself and PAWS in a professional manner and treat all visitors and potential adopters with respect.

Optional/Recommended: Purchase a Volunteer T-shirt to wear while volunteering

Optional/Recommended: Join the PAWS Volunteer Facebook page!
You must attend an orientation before volunteering. During orientation, new volunteers are familiarized with the rules, procedures, and protocols within the shelter in regards to animal handling and safety.
After completing the application in GivePulse, you will be able to register for upcoming Volunteer orientations, which are typically held on weekends.

Before attending the orientation, you must read the entire PAWS Volunteer Handbook. You can download it from the application form in Give Pulse.

When registering for orientation, you will also be prompted to watch a Volunteer Training Video and answer questions about the video. This must be completed before attending the orientation.

The volunteer orientation is a short (30-45 minute) class and facility tour, to familiarize volunteers with our policies and procedures. Choose the shelter location where you plan to volunteer most often: Kyle (500 FM 150 East, Kyle TX) or Dripping Springs (2965 FM 165, Dripping Springs, TX).

There is a $10 registration fee for new volunteers 16+ years old, or $5 for youth 12-15 years old. The fee can be paid by cash, check, or credit card on the day of orientation.
We are not able to accept volunteers under the age of 12.

Youth ages 12 – 15 must have a parent or legal guardian (age 18+) with them at all times while volunteering. Only the parent/guardian may enter dog kennels, hold leashes, and handle dogs. The parent/guardian must attend volunteer orientation and sign a waiver.

Youth ages 16 – 18 can volunteer without parental supervision. However a parent/guardian must attend volunteer orientation and sign a waiver.

Youth ages 12-18 must also fill out the volunteer application and register for orientation with their own GivePulse account (with parent assistance if needed).
FREQUENTLY ASKED QUESTIONS:
I DON'T SEE ANY ORIENTATIONS LISTED, WHAT DO I DO?
We're always adding new dates, so keep checking back in GivePulse. You can also add yourself to the waitlist for orientations that are already at the maximum number of registrants. If a space becomes available, you'll receive a message in Give Pulse. Contact volunteer@pawsshelter.org if you have questions about registering for orientation.
WHAT CAN I DO AS A PAWS VOLUNTEER?
Volunteer opportunities are constantly changing as we grow and develop new programs. Below is an alphabetical listing of current opportunities, but you will get more details and learn about the latest needs and options when you attend orientation.
Animal Enrichment


Participate in our Read and Relax Program, stuff Kongs and make toys.

Data Entry/Office Work


Enter data to keep our processes running smoothly.

Dog Walking


Come help walk our dogs and ensure they get the exercise and TLC they need every day. You can come in any time during shelter hours.

Events


Promote PAWS' mission and recruit volunteers, fosters, adopters, and donors at special events around town. Work at info tables and booths, and hang out with adoptable animals while representing PAWS.

Foster, Foster Coordination


Provide temporary care for cats or dogs in your home until they can be adopted. You must be the owner/renter of home and fill out a foster application for dogs and/or cats. See our Foster page for more information. You can also assist in this effort by becoming a Foster Coordinator. Foster Coordinators help with the organization of the foster population to keep our foster program running smoothly.

Fundraising


Our organization is completely dependent on donations. This committee assists in finding individual and business sponsors; researching and writing grants; overseeing donor recognition; develop and assist with fundraising events.

Marketing/PR/Graphic Design


Help educate the public about PAWS and our mission. Seek out public speaking opportunities; presentations at local fairs, farmers' markets and other events; distribute PR materials at events and local businesses. Create a variety of promotional materials including brochures, ads, posters and flyers.

Photography


Take and post digital photos of shelter and foster animals for marketing materials. Experience and DSLR camera strongly preferred.

Transport


Transport cats from our shelter to adoption sites and back via your own vehicle.

Volunteer Coordination


Assist in all aspects of recruiting, orienting, determining placement of, and coordinating volunteers for PAWS departments.

Wimberley Village Thrift Store


At the Wimberley Village Thrift Store, your hours convert to dollars for PAWS. On average, just one hour spent working at the thrift shop results in $12-$15 going to support PAWS. Hours are flexible. The Village Store is located at 300 River Road in Wimberley. Store hours are Tuesday – Saturday 9:00 am to 2:00 pm except Thursday when the store stays open to 7:00 pm. If you are interested in volunteering your time at the thrift shop, let us know and we'll get you on the schedule!

Writing Animal Biographies


Help make animals more adoptable by creating animal biographies.
I COMPLETED THE ONLINE APPLICATION, NOW WHAT?
You must attend an orientation before volunteering. We hold orientations at each location, Kyle and Dripping Springs, typically on weekends. After completing the application in GivePulse, you will be able to register for upcoming Volunteer orientations. At the orientation session you will learn about our organization and the various ways to get involved. Download mobile app here: [Apple] [Google Play]
I'VE GONE THROUGH ORIENTATION, NOW WHAT?
You can immediately start Walking Dogs or Cuddling Cats. To see the full list of volunteer opportunities, look for events in Give Pulse. We also send out requests through GivePulse for any upcoming special events/volunteer needs. At any time, whether a week or a year after orientation, you may volunteer@pawsshelter.org for information, direction, or other assistance related to PAWS volunteering. If you attended orientation but have not volunteered within three months, you will need to attend another orientation.
I NEED TO FULFILL COMMUNITY SERVICE HOURS, WHAT DO I DO?
If you are seeking court-ordered community service, you are not required to go through the volunteer application/orientation process. We do not accept community service for violent or sexual offenses. 
Community service workers must be 18 or older. 

You may come to either shelter (Kyle or Dripping Springs) any day at 9am, including weekends and holidays. You must be able to work for at least 3 hour increments. 

On your first day of volunteering, you must bring a photo ID and sign a liability waiver.
You will be required to help clean the cat and dog living areas, so please wear clothing that is appropriate for the weather and work. You are also required to wear closed-toe shoes. 
If you are seeking community service hours for school/an organization, please follow the steps above for "How to become a volunteer."  
You will be in charge of any documentation, including tracking your volunteer hours on your own time sheet. You may request that a PAWS supervisor initial your time sheet each time you volunteer. 
If you require other documentation of your volunteer hours, such as referral forms for college programs, you must contact volunteer@pawsshelter.org beforebeginning your service.
DO YOU HAVE OPPORTUNITIES FOR GROUP VOLUNTEERS?
Groups are welcome to volunteer, but must attend orientation and pay the $10 fee* per person. *Fees may be reduced/waived for non-profit organizations or youth groups. 
If your group members want to attend orientation together, but there aren't enough available spaces left in GivePulse, email volunteer@pawsshelter.org with the following information:
How many people are in your group? Any group members age 18 or under? (all volunteers must meet Age Requirements above)

What dates/times can your group meet for orientation? 

Do you want to stay and volunteer right after orientation or schedule a future volunteer date?

Which location: Kyle or Dripping Springs?

Do you have a specific volunteer activity in mind for your group? (Dog walking, cat enrichment, cleaning, treat delivery, laundry, mulching, painting, fencing, hosting an off-site event, etc.)
DO YOU HAVE OPPORTUNITIES FOR THOSE WHO DON'T MEET VOLUNTEER REQUIREMENTS?
If you don't meet the age requirements and/or can't attend volunteer orientation, please consider helping Paws by:
organizing a donation drive to collect our most-needed items: https://pawsshelter.org/donate/wish-list/ 

Creating "goodie bags" for our adopters/fosters with toys, treats, collars, and any supplies from our wishlist

organizing a special project to help the shelter (past projects include: designing and building a sensory garden for the dogs, buying supplies to paint benches/fencing, designing and replanting flower/mulch beds, etc.)
Email volunteer@pawsshelter.org to discuss these options further!